Abella has been begging me for at least a year, probably closer to two years, to cut her hair. I posted a photo on Instagram with a question in the caption. "Abella has been begging me to cut her hair short, do you think I should let her do it?" Almost everyone said "YES!" So thanks to all of the good advice from my followers, we did it…and we haven't regretted it for a second! I think she looks so cute and it really fits her personality! It's for sure a lot harder to come up with braids but it's pushed me to step out of my comfort zone! We wanted to show you that even if you have short hair, there are lots of cute braids you can still do!
Three Ladder Braids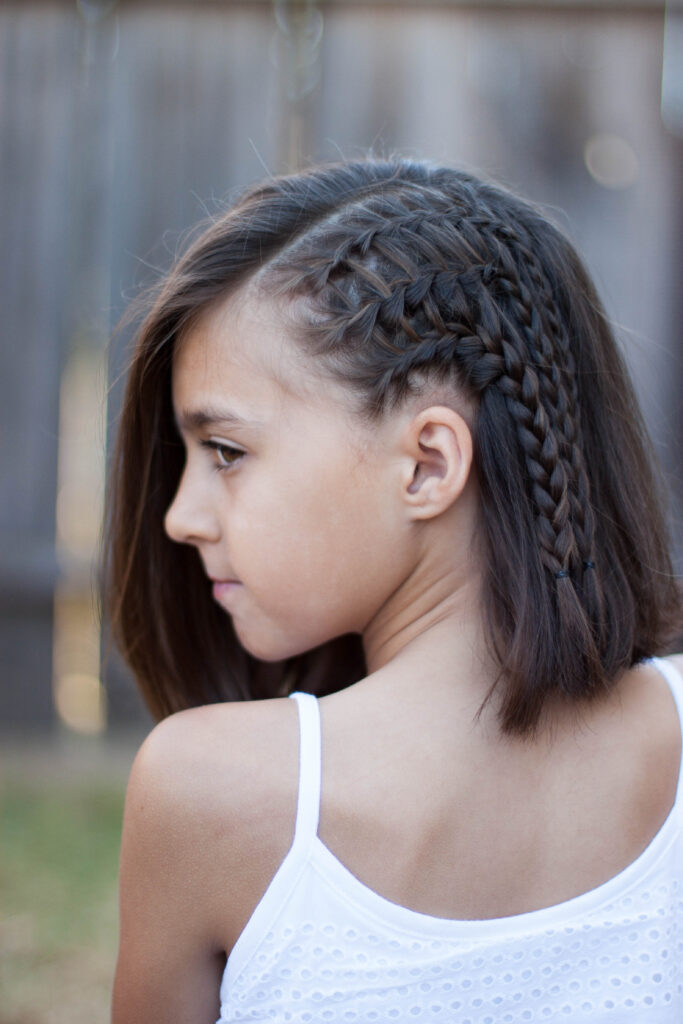 This first braid (Above) is three ladder braids. Start out with a part deep to one side. On the side with less hair, start out by doing a waterfall braid along the part. Under that one, do another waterfall braid, but incorporate the waterfall pieces from the one above it as you braid. Under that one, do a french braid. Incorporate the waterfall pieces from the second braid as you go. We braided each one to the ends and used elastics that matched her hair to tie them off. I love this edgy look!
Dutch Pigtail Braids
I was so excited that her hair, even as short as it is now, was still able to be put into the fun and trendy dutch pigtail braids! Instead of braiding to the ends, I ended them in close together pigtails at the nape of her neck. After I finished braiding, I tugged on the outsides of the braid gently to loosen them and make them a little messy and fun! Since she doesn't have enough hair to tie around the elastics, I made sure to use elastics that matched her hair so they blend in as much as possible. You could also cover them with clips or bows!
Micro Accent Braid
A great braid for short hair is a micro accent braid! My biggest tip for braiding short hair would be to add in small slices of hair rather than big ones. I did a small (micro) braid along a slightly curved deep part for anther cute and edgy look! You could also do another one next to it if you wanted a little more to the look, but I really liked how simple this one was. You can see how the part curves a little better from the back view. I ended the braid close to the head with an elastic that matched her hair.
3/4 French Braid
For our fourth style, we did a 3/4 french braid! Super simple but also super cute! You could do any type braid! It would also look cute using a Dutch braid or a fishtail braid! I loved the side view of this braid! I will for sure be doing this one next time she goes to gymnastics or swimming, whichever comes first!
Two 4-Dutch Lace Braids
Our last braid is two four dutch lace braids into two loops in the back. Start off by parting the hair down the middle. On each side of the part, do a dutch lace braid, adding hair in from only the section closest to the part as you braid. Tie the braids together in the back with a small elastic and before you pull the hair all the way through to make a ponytail, leave it in a cute little loop! If the hair is a little bit longer, you could do a tiny bun. Repeat this directly under the braid you just did so you have two rows and two loops.
We will have to be coming up with lots more short hair braids in the future, so be sure to give us a follow over at our newly redesigned blog Abella's Braids to see more as we do them!
Thanks for reading. See you again this time next month!